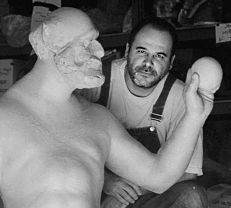 Truth, soul, and unpretentious sophistication characterize the work of artist Simon Kogan. Born in Russia, he received 13 years of classical academic training in Moscow, including an MFA as well as an apprenticeship under renowned sculptor Isaac Brodsky.
Since immigrating to the U.S. in 1991, he has steadily risen to national prominence as a sculptor whose widely acclaimed work – monumental to miniature – reflects a bold, yet poetic pursuit of the archetypal and renders an ethereal quality highly resonant with the viewer. A Fellow of the National Sculpture Society, Simon Kogan has long shared his artistic passion through the teaching of sculpture, painting, anatomy and drawing in the U.S. and abroad.
To inquire about purchasing or commissioning a work, please email Simon Kogan.
Links
Major Public Works
Monumental Portraits for Changsha Normal University, China. 2019
"Yiddish" Bronze, Corten Steel. National Yiddish Book Center, Amherst, MA 2012
"80th Anniversary Brookgreen Gardens Medal" Minted Bronze. Brookgreen Gardens, SC 2011
"2011 Brookgreen Gardens Medal" Minted Bronze. Brookgreen Gardens, SC 2011
"Ark" Wood, Stained Glass, Copper, Light. Temple B'nai Torah, Olympia, WA 2007
"Cezanne" Stoneware. Museum Granet, Aix-en-Provence, France 2006
"Interactive Sound" Bronze, Steel, Brass. Children's Hospital, Puyallup, WA 2006
"Holocaust Memorial" Bronze, Granite, Stained Glass. Temple Beth Sholom, Spokane, WA 2005
"Challenge" Bronze, Granite. Community Youth Services, Olympia, WA 2002
"Justice William O. Douglas" Bronze, Concrete. Davis High School, Yakima, WA 2004
"Mother Lifting Child" Bronze. Wenatchee Hospital, Wenatchee, WA 2004
"Vision" Acrylic on Wood. Olympia Eastside Co-Op, Olympia, WA 2002
"Mother Lifting Child" Bronze. Hands-On Children's Museum, Olympia, WA 2001
"Light" Bronze, Wood, Stained Glass. St. Martin's University, Lacey, WA 2001
"Motherhood" Bronze, Granite. City of Olympia, Olympia, WA 1999
"World War II Memorial" Bronze, Steel, Granite, Concrete. State of Washington, Olympia, WA 1999
"St. Benedict" Bronze. Saint Martin's Abbey, Olympia, WA 1995
"Randolf Collier, Father of American Freeways" Bronze. City of Yreka, Yreka, CA 1995
"Memorial Plaque" Bronze, Brass, Wood, Light. Temple Beth Hatfiloh, Olympia, WA 1992
"TETRIS" Plaster, Steel, Paint, Papier-Mâché. Moscow History Museum of Figures, Moscow, Russia 1991
"Central Town Monument" Concrete. City of Velikiy Ustug, Velikiy Ustug, Russia 1991
Selected Solo Exhibitions
Shanghai, China "Two-Man" Show 2023
MCCA Gallery, Changsha, Hunan, China 2019-2021
M Gallery of Fine Art, Sculpture, Charleston, SC 2010
Muse Gallery, Sculpture and Printmaking, Jackson Hole, WY 2006 – 2010
State Capitol Building, Paintings, Olympia, WA 1998
Sunburst Art Gallery, Sculpture, Painting, Drawings, Prints, Chelan, WA 1995-2009.
Seattle Jewish Community Center, Sculpture, Paintings, Mercer Island, WA 1992, 1995
Seattle International Trade Centre, Sculpture, Paintings, Seattle, WA 1993
Selected Group Exhibitions
"The Art of Medal: Past and Present," Brookgreen Gardens, Myrtle Beach, SC 2011
"Out of the Wild: Animals in Sculpture," Brookgreen Gardens, Myrtle Beach, SC 2011
"Visiting Master Artists Exhibition," The Armory Art Center, West Palm Beach, FL 2009
"Drawings, Paintings, and Prints by Sculptors," Brookgreen Gardens, Myrtle Beach, SC 2009
"New Work," The Art Spirit Gallery, Coeur d'Alene, ID 2008-2009
"Salon D'Automne," Palais Des Congres, Paris, France 2006
"Cezanne in Provence," Museum Granet, Aix-en-Provence, France 2006
"Great American Artists," Cincinnati Museum Center, Cincinnati, OH 1996-2006
"West Edge Sculpture Invitational," Seattle, WA 2005
"Artists Forum International," Denver, CO 2002
"Small is Big," Galeria D'Art Zero, Barcelona, Spain 2001
"Northwest Artists," Washington State Capitol Museum, Olympia, WA 2000
"Artists of America," Denver, CO 1997-1999
"Sculpture," MAC Gallery, Seattle, WA 1996
"Outdoor Sculptures," I-90 Outdoor Sculpture Gallery, Mercer Island, WA 1995
Education and Honors
The House of Representatives, on behalf of the people of the State of Washington, recognizes and honors the life and work of Simon Kogan, 2022
National Sculpture Society, New York, NY
Fellow, Elected 2010
Russian Artists' Union, Moscow, Russia­­­­­­
Registered National Artist, 1985 – 1991
Isaac Brodsky Studio
Apprenticeship, 1977 – 1991
Moscow Pedagogical University, Moscow, Russia
Master of Fine Arts, 1985
Bachelor of Fine Arts, 1983
First Moscow Art School, Moscow, Russia
Associate of Fine Arts, 1977
Selected Experience
Brookgreen Gardens, Myrtle Beach, SC
Sculptor-in-Residence "Rainey Master Sculptor," October 2010
Instructor, 2008 – Present
Scottsdale Artist's School, Scottsdale, AZ
Instructor and Lecturer, 2001 – Present
Pacific Lutheran University, Tacoma, WA
Guest Lecturer, 2009, 2010
Evergreen State College, Olympia, WA
Guest Lecturer, 2005, 2009
Art Center, Jackson, WY
Instructor and Lecturer, 2005 – 2006
Provence, France
Instructor, Plein Air, oil painting 2004
Private Studio, Moscow, Russia
Instructor, 1989-1991
Moscow Art School, Moscow, Russia
Instructor, 1985-1989
Tretyakovskaya Gallery, Moscow, Russia
Curator's Assistant, 1977-1979